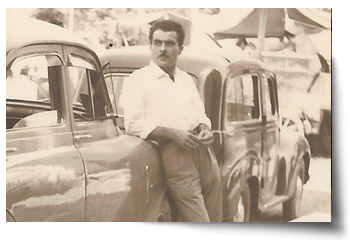 Like many young Italian men under Mussolini's rule, Luigi Della Grotta's life was put on hold as he entered military service during World War II. On a fateful day in 1941, as Luigi's battalion was returning to Sicily from Casablanca, the Italians were captured by American troops in Enna, Sicily. Luigi was one of nearly 2000 prisoners who would be sent to the United States in the Prisoner of War (POW) camps. He spent two months aboard a merchant ship on a voyage which took him from Sicily, to Africa and finally to New York.

Upon their arrival in New York City, Luigi identified himself as a mechanic. In all, ten Italians were sent to learn mechanics at a school in Atlanta, Georgia. After receiving his diploma, Luigi's job was to inspect motors in American camps. "In four years I never made a mistake," proclaims Della Grotta.

When the war was over and Luigi was a free man, he returned to a war stricken Italy, it was barren and in ruins. Cassino had been destroyed. A local priest was looking for mechanics, and Luigi was ready to travel to the farthest reaches of the earth to pursue his passion. He found his way to Cordoba, Argentina on a two year contract at an aviation plant earning 300 pesos per month. Not bad. There was only one problem, Luigi was an auto mechanic not an airplane mechanic, he knew little to nothing about airplanes. He actually worked there for six months before having to explain to the authorities that there had been a misunderstanding and that he was in fact an auto mechanic. The company agreed to void his contract.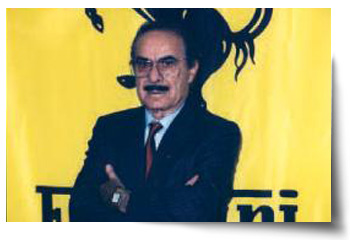 One day Della Grotta packed his bags and booked a flight to Modena. He entered the Ferrari head office and spoke to Amerigo Manicardi, Ferrari's international sales manager at the time. Luigi explained to Mr. Manicardi that he wanted a Ferrari dealership in Canada. Manicardi refused to let Luigi even speak to Enzo Ferrari, and assuring him that he had made a mistake, showed Luigi the door.

Luigi returned to Canada and went on with his life. But he wasn't going to forget about it. It wasn't long before he packed his bags again; destination Modena. Luigi met with Manicardi. "Mr. Della Grotta, go back to Canada," he was told. "I've just come from Canada," Luigi fired back. Manicardi told him that his proposition was impossible and showed Luigi the exit once again.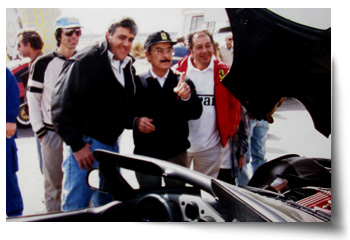 One might say that Luigi Della Grotta has had a love affair with his suitcase, his mechanic's tools and that prancing horse. While most of his dreams have come true, Luigi still has one more desire, to make Montreal the automotive capital of North America. A wish that does not seem so far fetched thanks to his contributions, determination and love for what he does.

So just as he brought the first Ferrari to Quebec, Luigi also started the first Ferrari club in this Province. In 1990 he founded the Luigi Ferrari Club.

In 1995 the club was incorporated as the Club Ferrari Quebec. There are currently forty members in the club, which organizes events year round.

Frank Del Pinto, co-founder and member of LCFQ is proud to be associated with Luigi Della Grotta's club. "Whenever there was a world meeting at Ferrari, Enzo Ferrari always wanted his good friend Luigi Della Grotta to be seated at his table." says Del Pinto. Luigi was referred to as the "Enzo" of Canada. It has been said that Luigi Della Grotta and Enzo Ferrari were a lot alike. Those who knew both men will attest to that. Nothing but pure, unbridled and focused passion for what was Ferrari. They were both perfectionists, meticulous in every way, but never changed their philosophy about their work and about their very special "product". They conducted their lives and businesses in the same way and shared a life-long mutual admiration for each other.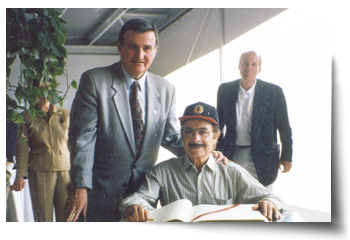 As a young boy in a tiny village near Cassino, Luigi Della Grotta used to drive a carriage propelled by a horse. He earned two lira per hour. Later on in his life it would be a different horse that would propel his dreams, a prancing horse.

Luigino, as they called him in his native town of Sant'Apollinare in the province of Lazio, came from a family of seven children; four boys and three girls. Two of the boys were tailors, the other two were mechanics including Luigi.

Luigi remembers the days when prior to becoming a mechanic one had to learn to be a "maniscalco", a blacksmith. "In order to save coal, a horseshoe had to be crafted on the first attempt, there was no room for errors" recalls Luigi. Perhaps this is where he acquired his perfectionism. At the tender age of 11, Luigi began to learn his trade in a tiny mechanic shop in Cassino. It was also at a young age that Luigi's entrepreneurial spirit began to fleurish; He began renting bicycles in the neighboring town of San Giorgio a Liri.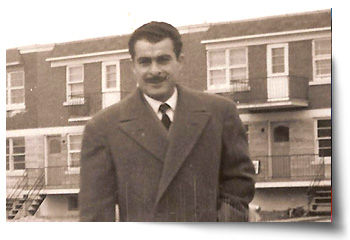 After one year of looking for work in Argentina, Luigi met Juan-Manuel Fangio, a man who many consider to be the greatest race car driver of all time. Luigi worked as Fangio's mechanic in a famous rally championship race with the starting line in Caracas and the finish line in Buenos Aires. 5000 kilometers in distance.

Both Luigi Della Grotta and Juan-Manuel Fangio would eventually go their separate ways. Fangio would write formula one history by winning five world championships with Maserati, Alfa Romeo, Mercedes and Ferrari. Luigi would write his own history in Montreal, Canada.

After several tough years of working as a mechanic in Montreal, Luigi returned to his wife Mabel, whom he had met in Argentina and his two daughters, Maria and Sonia who were now in Italy. One day a letter from a man named David Hamilton arrived at the Della Grotta house in Italy. Hamilton offered Luigi a five year contract to work in his garage in Montreal. Luigi accepted the offer and packed his bags once again.

After witnessing Della Grotta's skills and dedication to his trade, Hamilton gave Luigi his very own garage. He was soon flooded with work and his business began to thrive. But Luigi had something on his mind and he couldn't let go of it. He wanted to bring Ferraris to Canada.
Luigi went home to Montreal and his business and continued fixing his cars. In 1960 he decided to try his luck one last time.

As Della Grotta walked into the Ferrari head office an exasperated Amerigo Manicardi stood and watched in disbelief, and out of desperation, agreed to let him speak to Enzo Ferrari. Luigi explained his plans to Enzo Ferrari as il commendatore shook his head, "I won't allow my cars to go to the North Pole, it's too cold," he said. Luigi assured Enzo that his automobiles would only be driven during the summer.

Luigi's perseverance paid off, a Ferrari 250 was the first Ferrari to reach Canada. The 250 would eventually be sold to a lawyer in Quebec City and Luigi Sport Cars was born. Della Grotta would continue to sell about a dozen cars per year but only to clients he deemed worthy. He didn't care if you had a million dollars to spend, if you didn't know the car, know how to drive the car and truly love the car enough to treat it well, you didn't get one. In all these years of working on these special automobiles Luigi has never had a client come back with a complaint and has never had one single claim made against Ferrari. An incredible feat in itself.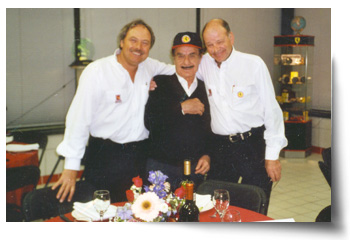 The name Ferrari will live on, there is no doubt, but for those who are intrigued by the true mystique behind this name, you must learn about its origin, its progression, its failures and triumphs. Many race fans and Ferrari fans of a new generation know Schumacher, and championships and grand prix parties. What they may not know is that in a garage on Henri Bourassa in Ville St-Laurent, an 85 year-old man called Luigi Della Grotta can be found, every week from Monday to Saturday, surrounded by photographs, cars and memories.

A man who has been around the world and experienced just about anything you can imagine. He has worked with legends, walked with legends and whether he likes it or not, has himself become a legend. If you stop by and see him, he'll invite you in, offer you a seat and a coffee and some of the most interesting stories you'll ever hear. Between the time you get up to leave and he sees you to the door and you're sitting in your car, it dawns on you that you have just been in the presence of someone special. If you want to brush up against the greatness that is Ferrari, don't try to bump into a driver at a party, go see Luigi.

EDIT: Luigi Della Grotta passed away on February 3rd, 2012 at the age of 89 (Luigi passed

in his Ferrari Service shop

as he had always predicted and wanted) Arrivederci caro Luigi...

Written by Joey Franco - Panoramitalia magazine -

May 7, 2012